We Are Here For You
C.R.A.C.E. College Consulting would love to give you access to their complete files on Financial Aid information to allow you to make the best decision for College Affordability and your child's future. Higher education is a significant investment for any family and student. Contact George and Donna Crace and their associates at 503-816-4220 today!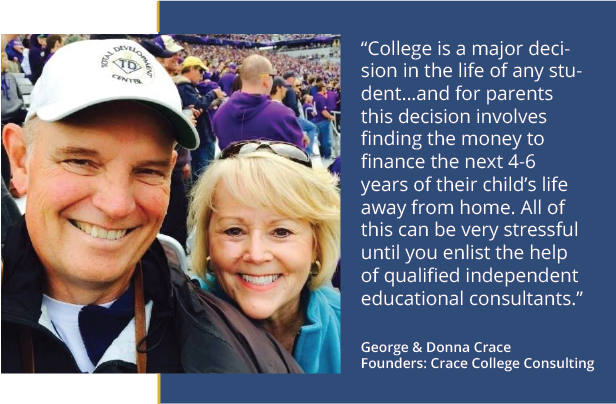 We Provide
Personal attention & Advisement 1:1

Self-discovery surveys and personality assessments

College majors and career planning

Test prep study methods and selections

ACT & SAT interpretation and guidance

High school 4-year plan and class rigor analysis

Best fit college analysis and college lists – for YOU!

Application-to-college support

Essay editing and advisement

FAFSA and CSS Profile assistance and understanding

Financial Aid & Scholarship guidance and analysis

Freshman through Senior year analysis and support

Comprehensive or hourly packages to fit your needs!

Time management and organization coaching seminar

REDUCED STRESS & ANXIETY as a result of working with us!
Discover Everything That Crace Has To Offer